Bearing one of the biggest names in the history of Maserati, Dr Adolfo Orsi Jr shared his unique story with special guests at Maserati Sydney's exclusive Italian cocktail evening.Maserati celebrates its history with Italian automotive royalty
Bearing one of the biggest names in the history of Maserati, Dr Adolfo Orsi Jr shared his unique story with special guests at Maserati Sydney's exclusive Italian cocktail evening.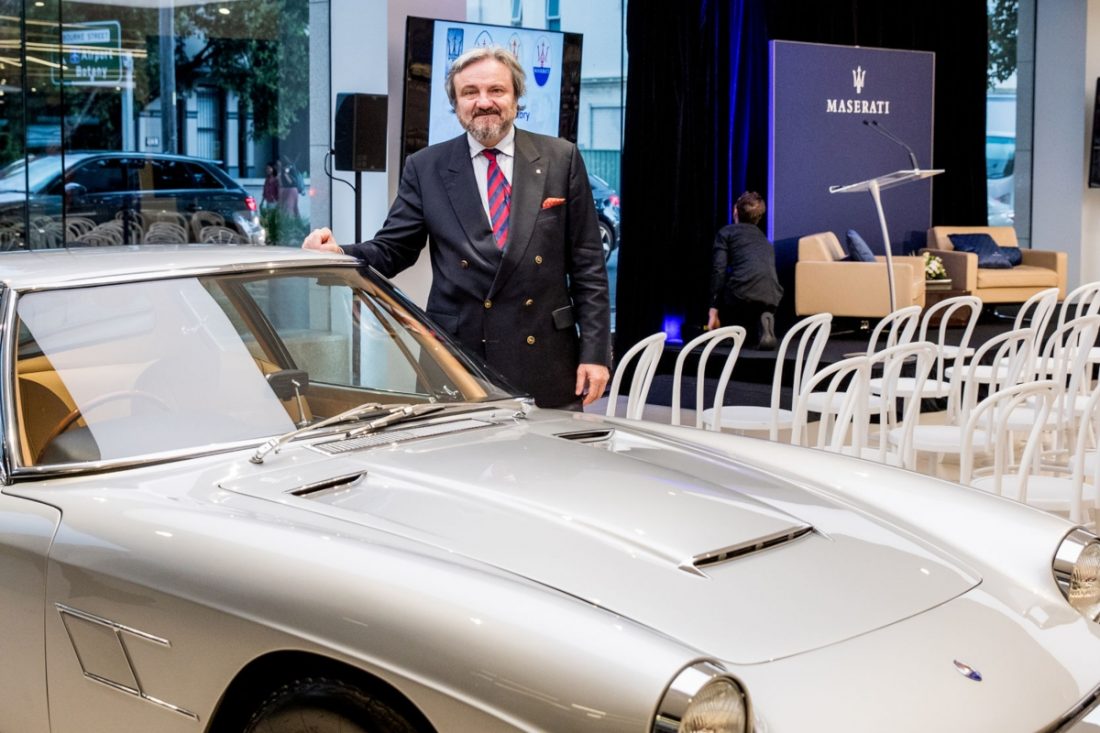 On Thursday 4 April, Maserati Australia and New Zealand hosted a lively Italian cocktail evening to celebrate more than 100 years of rich Maserati history.
The Waterloo showroom in Sydney was buzzing with conversation among Maserati owners and enthusiasts alike, who sipped on G.H. Mumm Champagne and Chivas Ultis whisky and nibbled at the decadent Italian grazing station.
A respectful silence fell over the room when special guest and renowned vintage vehicle expert Dr Adolfo Orsi Jnr appeared on stage to share his insights on classic cars and his part in the Maserati story.
In his home country of Italy, Adolfo is regarded as automotive industry royalty. As grandson of Adolfo and son of Omar Orsi, who held the reins of Maserati between 1937 and 1969, a passion for motorcars was his birthright.Previous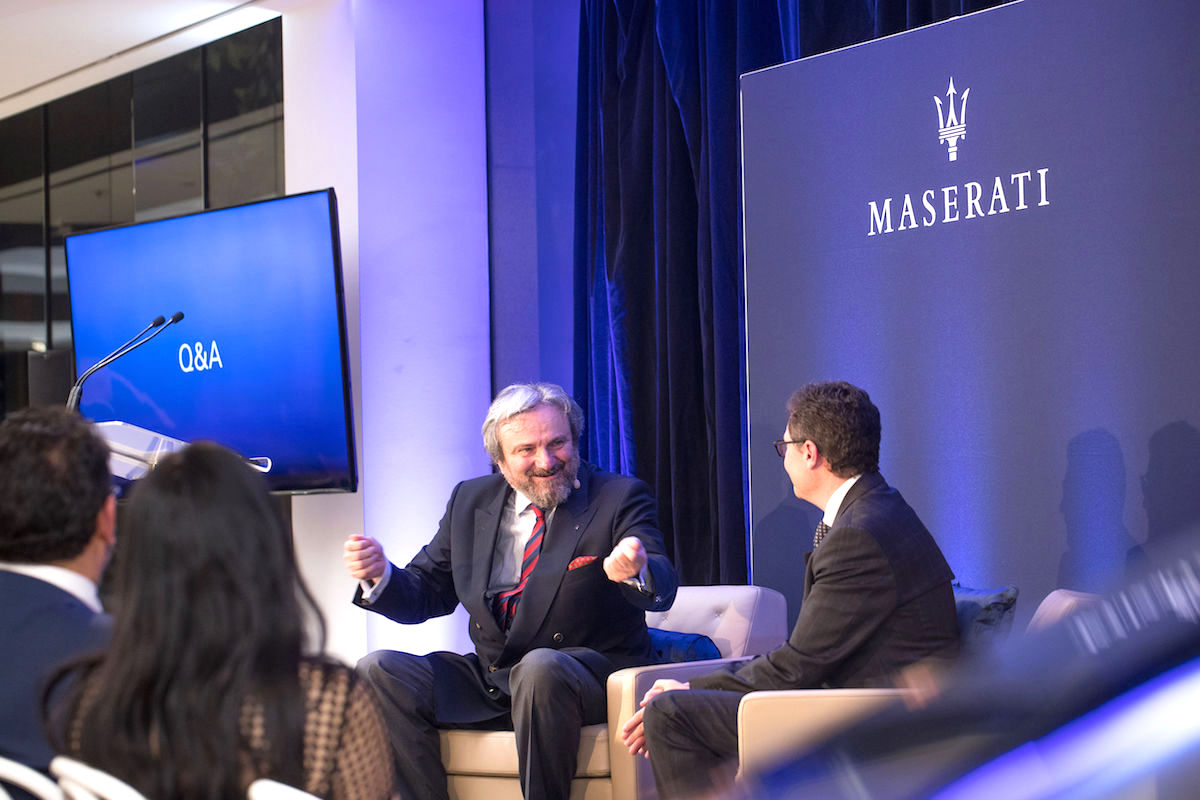 Dr Adolfo Orsi Jnr and Glen Sealey, COO of Maserati Australia and New Zealand
Dr Adolfo Orsi Jnr and Glen Sealey, COO of Maserati Australia and New Zealand
"The minute I opened my eyes, I entered a world where there was always a rumbling Maserati engine nearby," he chuckles. "What's interesting is that my older brother was raised in the same environment – surrounded by cars – and he never showed any interest in them.
"Looking back, I see how lucky I was to have been born into such a special family. At the time, Maserati was just a normal part of my life."
The Orsi estate was located less than a kilometre away from Maserati's factory in Bologna, Italy. Adolfo remembers riding his bicycle to the factory after school, where he was free to roam and explore.
"What fascinated me most was the assembly line and the moment all the parts came together to form a car," he recalls. "The car was then taken to the testing department, where it was tested by three drivers – one of whom was Guerino Bertocchi.
"Today, he is known as a racing legend, but at the time I just saw him as an old man," Adolfo laughs. "He was the mechanic and co-passenger of Alfieri Maserati when he debuted the first ever Maserati at the 1926 Targa Florio."
Adolfo recalls the times Guerino would invite him out to test the new models. "I would sit in the passenger seat and take notes if he noticed something in the car that needed improvement. Before I could even drive, I was learning about the inner workings of the car – all the way from the function of the carburettor to the electric windows."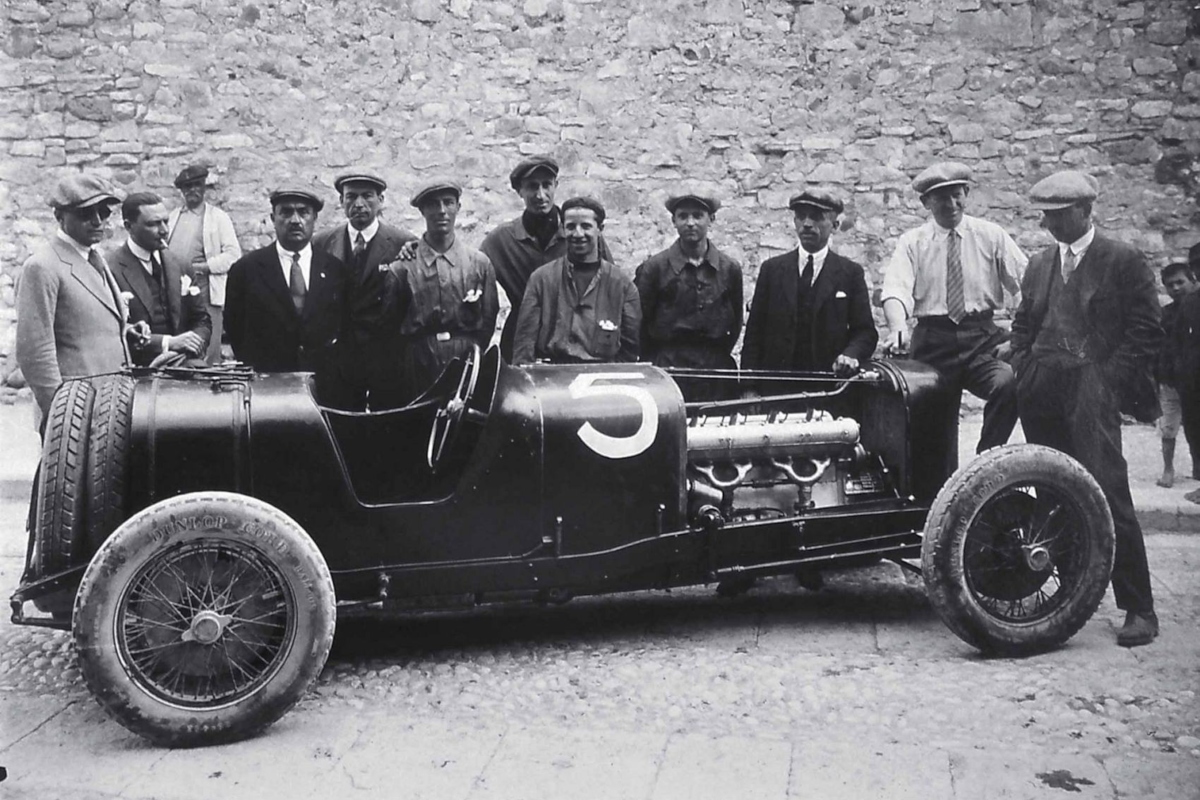 The Maserati team at the 1926 Targa Florio, Italy
At the age of 14, Adolfo received his first small motorcycle, which he upgraded every year until he earned his driver's licence at the age of 18.
"Of course, I had driven cars inside our private tracks before, but now I was able to legally drive," he points out. "This created in me the desire to be a racing driver, but my father insisted it was too dangerous. Instead, he let me enter in local rallies – which were still quite dangerous, let me tell you."
1970 – An era of big changes
In 1970, the Orsi family decided to inject fresh blood into the company by taking on a new partner: Citroën. The company was reorganised by models and became more structured under the influence of the French carmaker.
By 1971, the Orsi family had completely withdrawn their stake from Maserati – which Citroën sold to Gepi, an Italian government agency directed by the Italo-Argentinean racing driver and entrepreneur Alejandro De Tomaso.
"During this time, I was still keen on racing and I entered in the 1972 Monte Carlo rally when I was 20 years old," says Adolfo. "I loved racing, but I soon realised that I wasn't going to be a champion – I didn't have the skill for it."
Instead, Adolfo decided to study law at university. However, he always kept his hand in the automotive industry through his family's spare parts distribution business.
"After some years in the family business, I realised that you only live once," he says. "The work I was doing wasn't completely satisfying me – it didn't make me want to leap out of bed every morning."
Adolfo eventually found himself working with one of Italy's largest vehicle auction houses – which he helped grow tremendously over the next four years. But when Italian tax law changed and auction sales became heavily penalised, he harnessed his industry expertise and extensive client list to form his own company, Historico Selecta.
Thirty years on, the business is now a leading specialist in the international collector car market and a champion for historical preservation, advising many of the world's most prestigious manufacturers, museums and collectors.
"From the moment I started my own company, I've been working 10-hour days, 365 days a year," he observes. "But, I've learned that if you do what you love, you don't see it as work.
"When it comes to classic cars, I'm a perfectionist. If I see a Maserati that's not perfect, I feel a moral obligation to restore it to its original condition."
A natural expert in the field, Adolfo was invited to be on the judging panels for the most high-brow of classic car shows, including Salon Privé at Blenheim Palace in the UK and the famed Pebble Beach Concours d'Elegance in California, US.
"Pebble Beach is the most important event in the world of classic cars," Adolfo explains. "Each year, more than 250 cars come together from across the globe to compete. Winning a prize at Pebble Beach is to a car collector, equivalent to an actor winning an Oscar."
Click here to see the glamorous cars that graced foreshore at the inaugural Sydney Harbour Concours d'Elegance.
Lees verder bij de bron: https://www.theceomagazine.com/lifestyle/automotive/maserati-celebrates-history-italian-automotive-royalty/